(almost) everything

2006

The tapestry of painting is joined together in a line of overlapping imagery. The focus of the painting is the background clutter of subconscious thought that draws connections with and informs our conscious thought.


I have used (almost) every image, of interest to me, I could find from any source. Email, Internet, magazines, newspapers, videos, and photos have all informed and influenced the work. This is the same information we encounter on a daily basis living in a western society. The constant bombardment of changing images can trigger thoughts that can direct our minds and influence our decisions, affect our moods and take us mentally to places we were not prepared to go. When we reach a conclusion the origins of the thought or idea are often forgotten.


These paintings represent a remembering of the forgotten thoughts that happened between point A (the conception of a thought) and point B (the conclusion of a thought).


Crouching Men
4 x 4 inches
Oil on Mylar on wood
2006
Little boy
4 x 12 inches
Oil on Mylar on wood
2006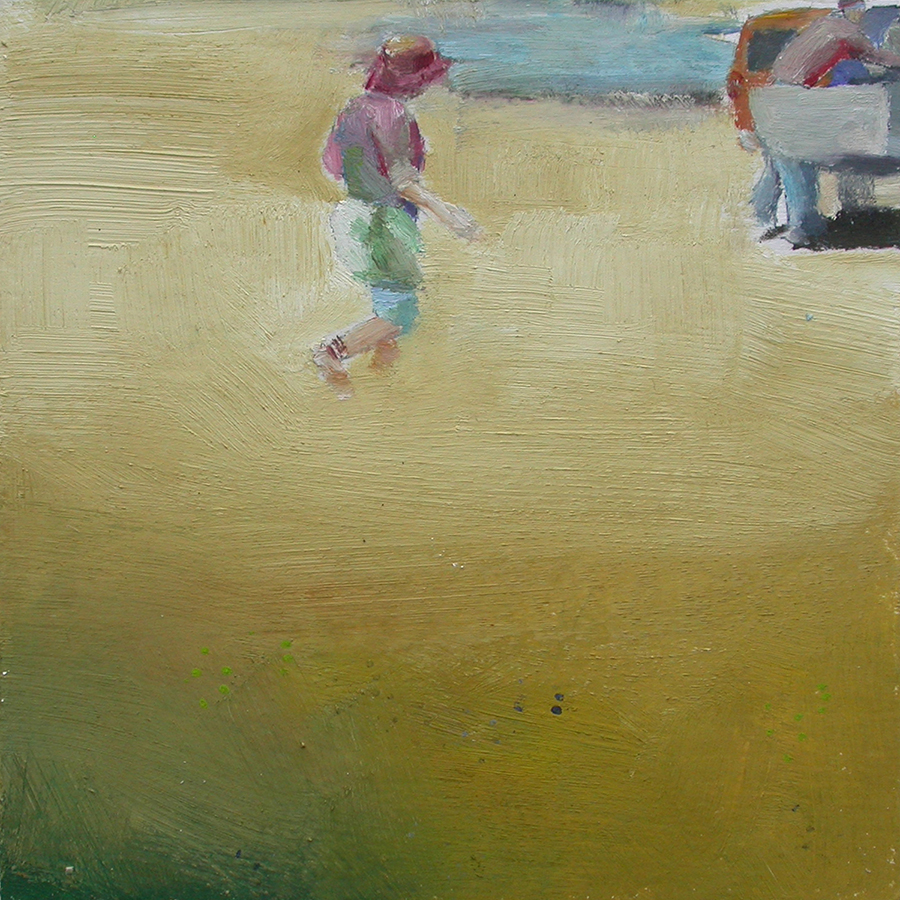 Field
4 x 4 inches
Oil on Mylar on wood
2006
Man and boy
4 x 9 inches
Oil on Mylar on wood
2006
Fence
4 x 12 inches
Oil on Mylar on wood
2006
Between houses
4 x 8 inches
Oil on Mylar on wood
2006
Mobile home
4 x 4 inches
Oil on Mylar on wood
2006

Pink field
4 x 12 inches
Oil on Mylar on wood
2010
Blue field
4 x 8 inches
Oil on Mylar on wood
2006
Three men
4 x 15 inches
Oil on Mylar on wood
2006
Patterned dress
4 x 15 inches
Oil on Mylar on wood
2006
Three women
4 x 15 inches
Oil on Mylar on wood
2006
Three women
4 x 15 inches
Oil on Mylar on wood
2006
Man
4 x 8 inches
Oil on Mylar on wood
2006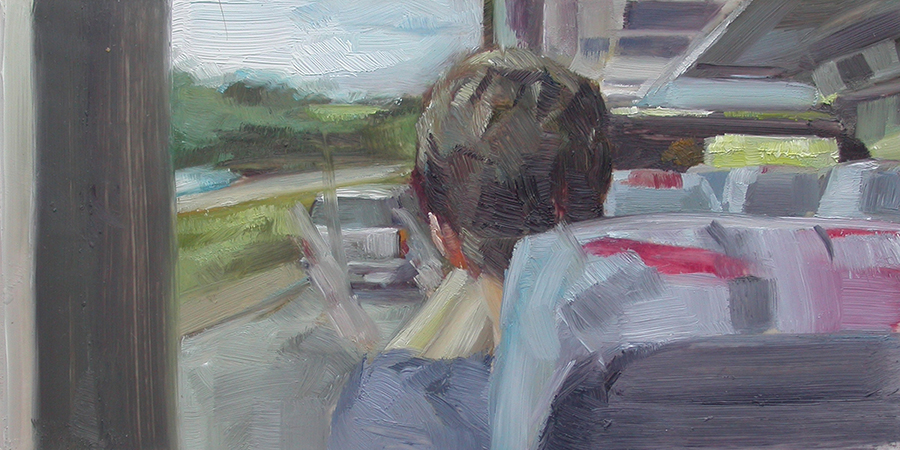 Bus passenger
4 x 8 inches
Oil on Mylar on wood
2006
Bus passenger
4 x 8 inches
Oil on Mylar on wood
2006
Car in lot
4 x 4 inches
Oil on Mylar on wood
2006
Car lot
4 x 4 inches
Oil on Mylar on wood
2006

Bus depo
4 x 12 inches
Oil on Mylar on wood
2006
Bus depo
4 x 12 inches
Oil on Mylar on wood
2006
Bus depo
4 x 11 inches
Oil on Mylar on wood
2006
Airport
4 x 12 inches
Oil on Mylar on wood
2006
Airplane
4 x 15 inches
Oil on Mylar on wood
2006
Phone poles
4 x 8 inches
Oil on Mylar on wood
2006
Clifford
4 x 12 inches
Oil on Mylar on wood
2006
Kermit
4 x 15 inches
Oil on canvas
2006
Macy parade
4 x 6 inches
Oil on Mylar on wood
2006
Macy day parade
4 x 8 inches
Oil on Mylar on wood
2006
Cannon
4 x 8 inches
Oil on Mylar on wood
2006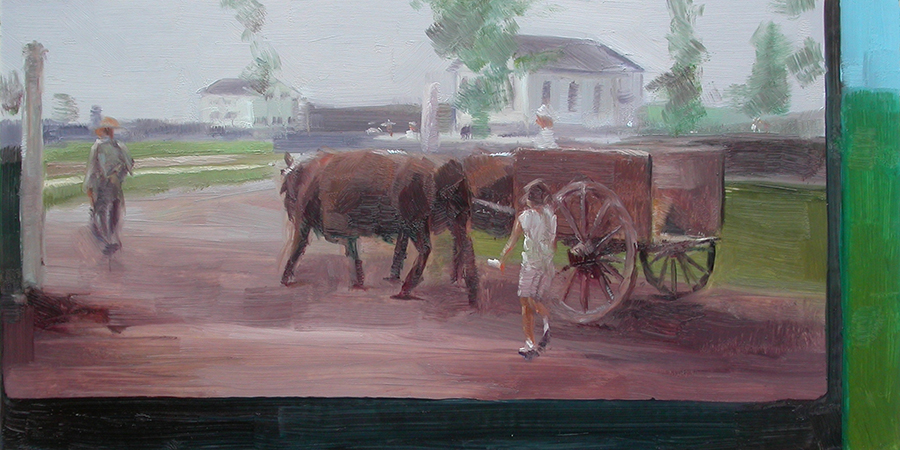 Bull
4 x 8 inches
Oil on Mylar on wood
2006
Bench
4 x 8 inches
Oil on Mylar on wood
2006
Activities
4 x 8 inches
Oil on Mylar on wood
2006
Activities
4 x 6 inches
Oil on Mylar on wood
2006
Activities
4 x 6 inches
Oil on Mylar on wood
2006
Kip
4 x 6 inches
Oil on Mylar on wood
2006
Ryan party
4 x 16 inches
Oil on Mylar on wood
2006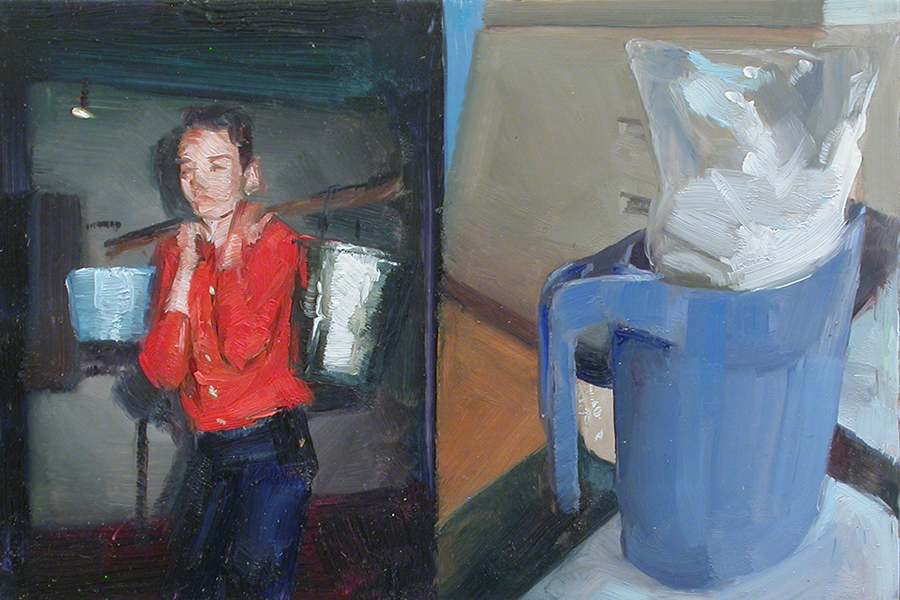 Milk
4 x 6 inches
Oil on Mylar on wood
2006
Milk
4 x 4 inches
Oil on Mylar on wood
2006
Forts
4 x 16 inches
Oil on Mylar on wood
2006
Yellow house
4 x 8 inches
Oil on Mylar on wood
2006
Louis
8 x 4 inches
Oil on Mylar on wood
2006
Dark room
4 x 8 inches
Oil on Mylar on wood
2006
Dark room
4 x 8 inches
Oil on Mylar on wood
2006
Ryan
4 x 10 inches
Oil on Mylar on wood
2006
Sheep
4 x 6 inches
Oil on Mylar on wood
2006
Playground
4 x 10 inches
Oil on Mylar on wood
2006
Old room
4 x 10 inches
Oil on Mylar on wood
2006
Park
4 x 16 inches
Oil on Mylar on wood
2006
Park
4 x 6 inches
Oil on Mylar on wood
2006
Jacob and Lisa
4 x 10 inches
Oil on Mylar on wood
2006
Bandage
4 x 4 inches
Oil on Mylar on wood
2006
Man in red shirt
4 x 4 inches
Oil on Mylar on wood
2006
Okawari
4 x 12 inches
Oil on Mylar on wood
2006
Dark room
4 x 12 inches
Oil on Mylar on wood
2006
Dark room
4 x 12 inches
Oil on Mylar on wood
2006
Gillian and Kip
4 x 4 inches
Oil on Mylar on wood
2006
Park
4 x 12 inches
Oil on Mylar on wood
2006
Park
4 x 8 inches
Oil on Mylar on wood
2006
Ryan's party
4 x 6 inches
Oil on Mylar on wood
2006
Table
4 x 16 inches
Oil on Mylar on wood
2006
Buildings
4 x 4 inches
Oil on Mylar on wood
2006
Nadia and Matt
4 x 16 inches
Oil on Mylar on wood
2006
Okawari
4 x 15 inches
Oil on Mylar on wood
2006
Phone poles
4 x 8 inches
Oil on Mylar on wood
2006
Girl with gun
4 x 12 inches
Oil on Mylar on wood
2006
Chipmonk
4 x 4 inchesOil on Mylar on wood
2006
Cowboys
4 x 12 inches
Oil on Mylar on wood
2006
Falcon
4 x 8 inches
Oil on Mylar on wood
2006
Woman
4 x 8 inches
Oil on Mylar on wood
2006
Owl
4 x 16 inches
Oil on Mylar on wood
2006
Boat
4 x 4 inches
Oil on Mylar on wood
2006
Crouching men
4 x 10 inches
Oil on Mylar on wood
2006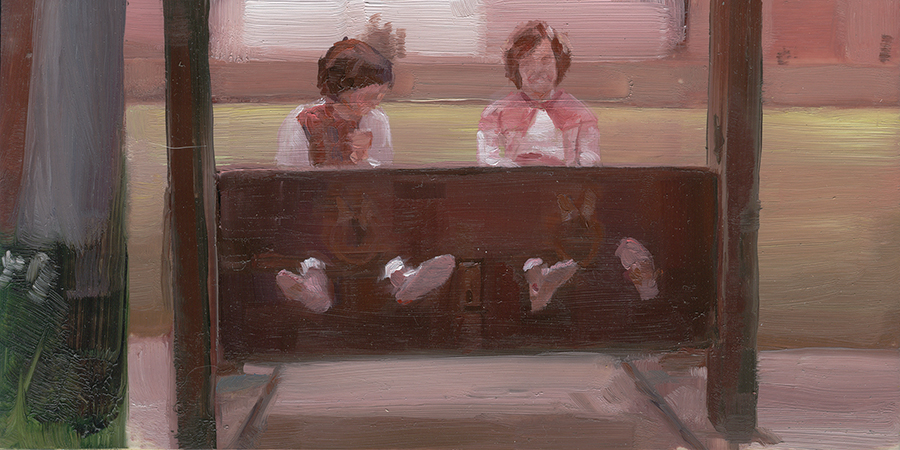 Untitled (girls at Fort York)
4 x 8 inches
Oil on Mylar on wood
2006
Plane on runway
4 x 16 inches
Oil on Mylar on wood
2009
Installation shot
AWOL Gallery
November 2006
Installation shot
AWOL Gallery
November 2006
Installation shot
AWOL Gallery
November 2006
Installation shot
AWOL Gallery
November 2006